Montreal Full Service Engine Repair
REACH US NOW :

4 Specialists available to answer all of your questions.
Fast and courteous service.
info2@rmmoteur.com or Use our Contact Form here


Member of


RM Motor Plant


10660, Racette st.
Montreal-North (Quebec) H1G 5H4

Toll Free : 1 800 321-3775
Telephone : (514) 321-2400
Fax : (514) 321-4215
COMPLETE MOTOR REBUILDING SERVICES :
15 MOTOR INSTALLATION STATIONS
10 MOTOR REBUILDING STATIONS
2 TRUCK MOTOR INSTALLATION STATIONS
20 ON-SITE MECHANICS
UP TO 10 MOTORS REBUILT PER DAY
COMPETITIVE PRICES
COMPETITIVE WARRANTY
SUPERIOR PARTS & SERVICES
BEST DELAYS vs COSTS
BEST TOP-OF-THE-LINE EQUIPMENT
ONE OF THE BIGGEST IN CANADA
NEVER SUB-STANDARD SUBCONTRACTING OUT WORK
ALWAYS FULLY REBUILT MOTORS, NEVER ONLY TEMPORARILY FIXED MOTORS
TESTED AND CERTIFIED MOTORS, BACKED WITH OUR FULL WARANTY
You can count on Montreal's Full Service RM Motor Engine Repair Facility to rebuild a complete motor or cylinder heads on any type of vehicles by one of our specialized mechanic in AMERICAN or IMPORTED MOTORS :

CAR – TRUCK – GAS – DIESEL – PROPANE - MARINE – INDUSTRIAL – AGRICULTURE – ROADS – ETC.
Having a motor rebuilt at RM MOTOR is ALWAYS :


More Economical than Buying a New One.
Lest Risky than Buying and Having Installed an Unknown, Already Used Motor Purchased From a Scrap Yard.
Guarantied for a Longer Period, Including Parts & Labour.
Faster to Put Back in Operation.
More Short and Long-Term Trustworthiness.
Best way of Saving Money While Extending a Whole Vehicle's Lifespan for Another Long Period of Productive Use. COMMERCIAL / INDUSTRIAL / PRIVATE / COLLECTORS' / SPECIAL VEHICLES.
One of the biggest in Canada
Emergency Services*
*Condtions apply
RM Moteur Mechanics, Complete Motor Rebuilding & Installation Service :


Cylinder Reboring and Honing
Cylinder Sleeving & Installation
Cylinder Bloc Resurfacing
Cylinder Head Resurfacing
Camshaft Repairs and Grinding
Connecting Rod Service
Line Bore
Shot Penning
Engine Balancing
Casting Repair
Flywheel Resurfacing
Manifold Resurfacing
Fork Lift Motors
Paving Equipment Motors
Asphalt Roller Equipment Motors
Tree Shredding Equipment Motors
Water Pump Motors
Ciment Pump Motors
Street Snowblower Motors
Ski Snow Making Motors
Sidewalk Snow Removal Equipment Motors
Caravan Motors
SUV Motors
Cubes Truck Motors
We also sell motor parts of any kind & make, for American & Imports of all models: light trucks, industrial usage, agricultural & farming equipment, vintage cars as well as performance engine parts and stationary engines.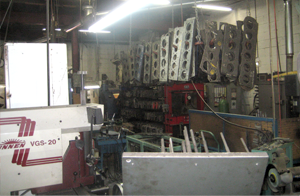 RM Motor Recycles All Metals & Liquids They Work With