Engine Running Stand

AMERICAN & IMPORTED MOTORS :
AUTOMOBILE – TRUCK – GAS – DIESEL – MARINE – INDUSTRIAL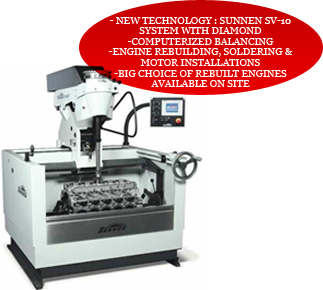 RM MOTOR Mechanic Shop
Company's History
In 1988, Normand Perron became owner of Atelier de Mecanique RM (1979) Inc. Under his guidance, the modest workshop was to undergo a remarkable expansion in the ensuing years, servicing the entire Montreal metropolitan area.

The XXIst century sees RM MOTOR Mechanic Shop become one important rebuilding engines service shop in the eastern Canada.

Now, in his huge 22,000 square feet premises, Mr. Perron works with about twenty employees, and his sons, Luc and Daniel, supporting him in the company's ever expanding motor rebuilding services.

RM MOTOR Mechanic Shop even helps out other garage mechanics less familiar with certain motor types or caught with unusual problems to solve everywhere in the Greater Montreal and in the rest of Canada.

The company's expertise and highly trained employees deliver high-end quality motor rebuilding and installation services and have become a well-respected reference in the field for reconditioning and installing motors.

A wide-range of clients calls upon RM MOTOR Mechanic Shop's many services to totally rebuild an engine or cylinder head on many type of vehicle or brand, be it gas or diesel engine.

Furthermore, installations of rebuilt motors are done on-site by qualified mechanics on any of the 15 motor-installation stations using any of their 10 motor-rebuilding stations available to all clients.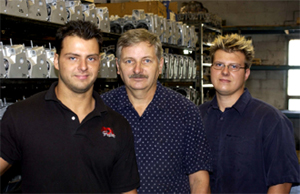 «Experience, expertise and unequaled quality, is the promise made by the Perron family to their clients.»